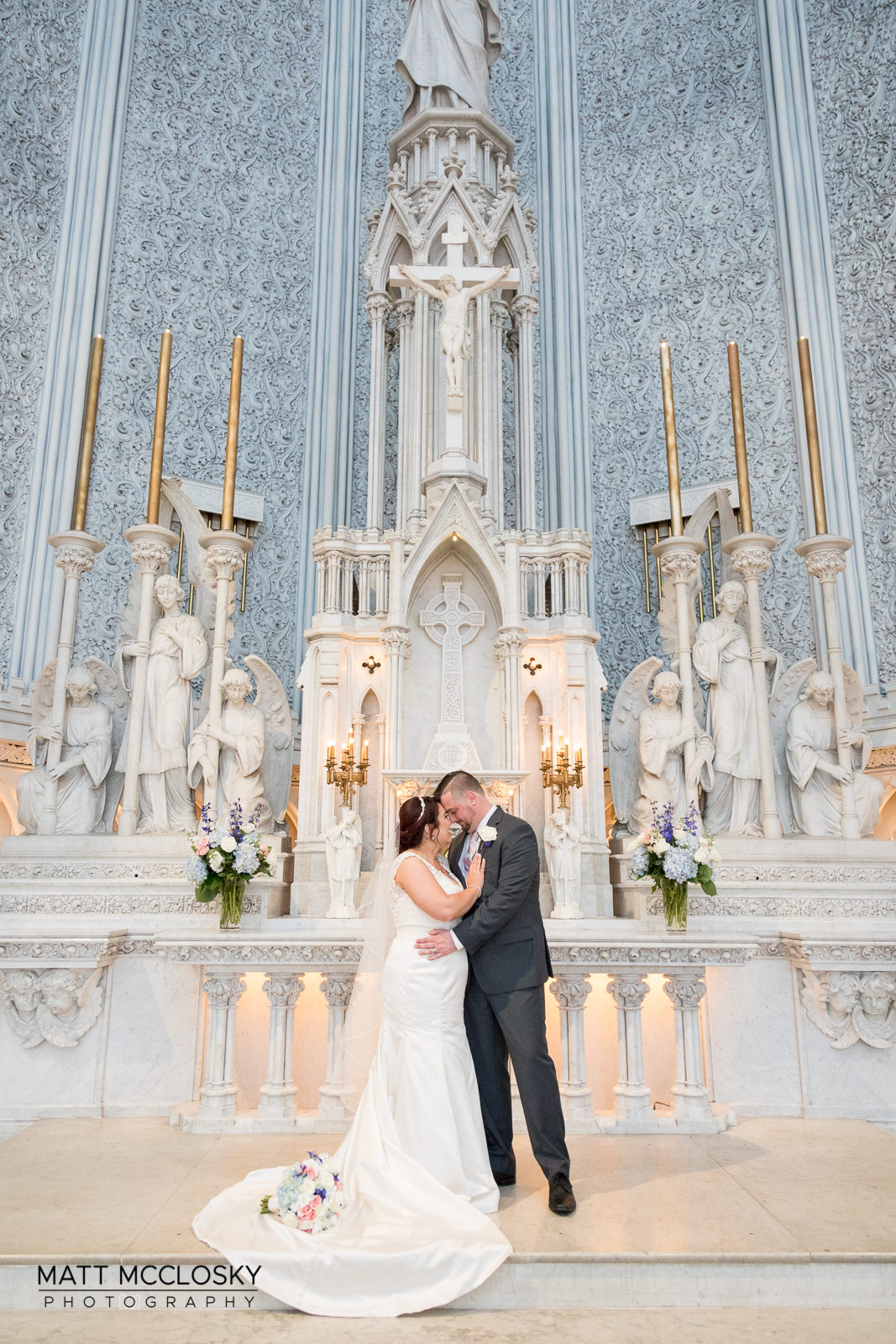 Megan and Nathans Saint John the Evangelist Church Wedding | Hilton Garden Inn Wedding
Megan and Nathan were married on May 27th, 2018 at Saint John the Evangelist Church in Schenectady NY.  The clouds were persistent and dropped a few good luck drops on the couple as they entered the church to exchange vows.  The beautiful marble altar lent to an amazing backdrop for the ceremony.
After a few formal photos in the church, the skies cleared just enough for us to head over to the Schenectady Rose Garden to capture some stunning photos of the couple. With a few minutes to spare in the garden we also photographed their family around the fountain. Following photos,  the group filed into the stretch limo and were whisked away to the reception at the Hilton Garden Inn, Clifton Park.
The Hilton Garden Inn and Mazzone Hospitality were wonderful hosts while DJ Ketchup kept the dance floor moving all evening long. DJ Ketchup even got on the dance floor to share some moves with the Bride and Groom.
The beautiful cake was made by Treatie Beatie Cakes who happens to be the Brides grandmother.
Congratulations Megan and Nathan!
We wish you the very best and are honored to have had the opportunity to photograph your special Saint John the Evangelist Church Wedding. It was also an honor to have had the opportunity to work with you both on your Saratoga Engagement Session.
Related:
Ceremony: Saint John the Evangelist Church
Reception: Hilton Garden Inn | Clifton Park, NY
Caterer: Mazzone Hospitality
Entertainment: DJ Ketchup
Cake: Treatie Beatie Cakes
Hair & Makeup: Vivid Salon