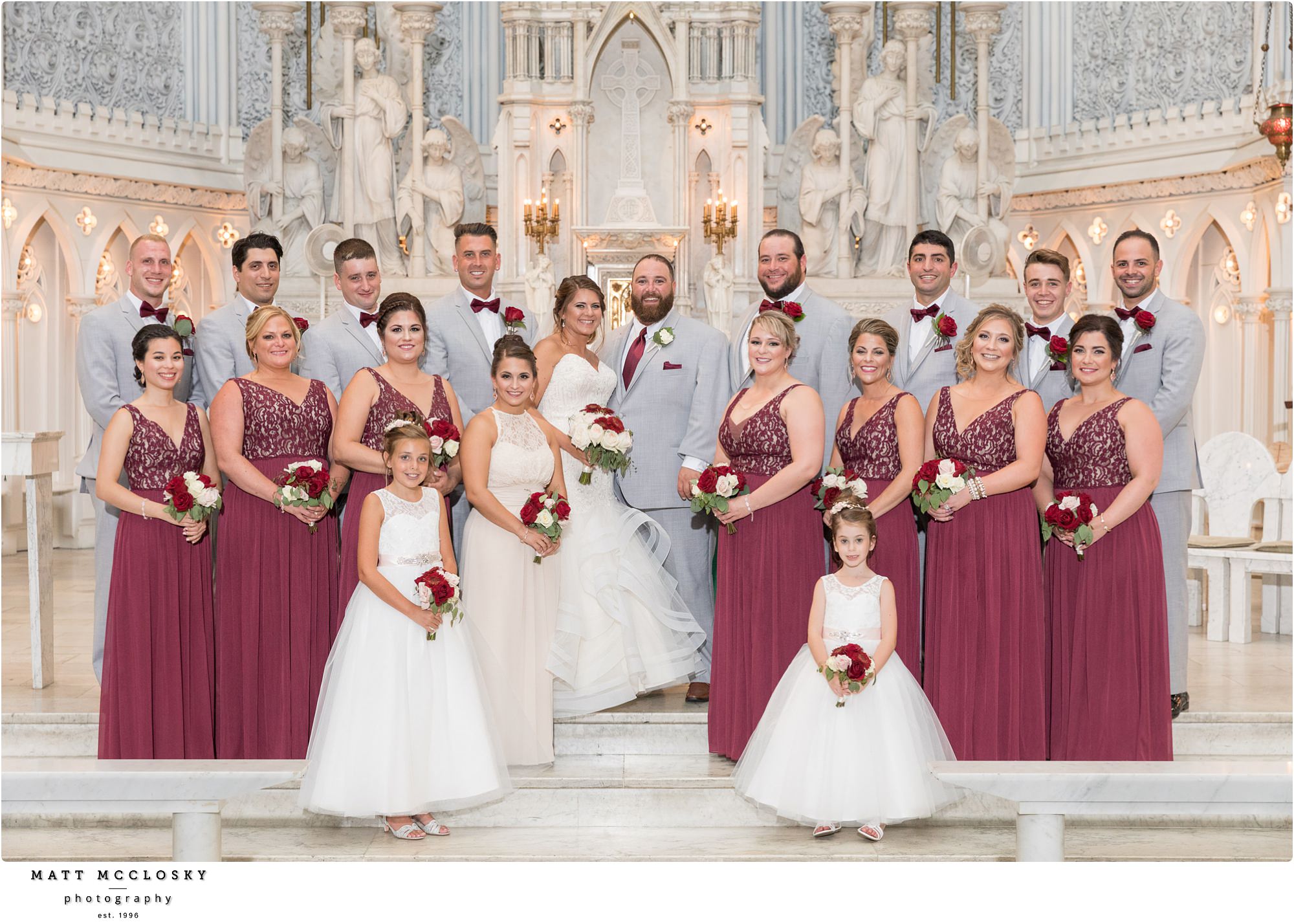 Amanda and Jared Falvo, A St. John the Evangelist and River Stone Manor Wedding
Amanda and Jared were blessed with a beautiful, sunny day for their July 6th wedding.  Family and friends all gathered at St. John the Evangelist in Schenectady at 4 O'clock in the afternoon to witness Amanda and Jared exchange their vows.  St. John the Evangelist once again proved to be an impressive backdrop for an amazing and equally impressive bridal party and family.
After a few church photos, we moved the party to the River Stone Manor where family and friends were already enjoying cocktail hour.  We finished off a few more photos in the beautiful yard of the Mansion down by the water after rounding up the wedding party that seemed to get sucked into the cocktail hour crowd.  
The ballroom of the River Stone Manor was a perfect fit for the 200+ guests.  The elegant centerpieces and the the sweetheart table surrounded by candles and a lit backdrop finished off the beautiful touches of the room.  Dinner was served after friends and family gave their blessings with funny and heartfelt toasts. You could feel the love with every word spoken.  The couple wouldn't have wanted it any other way.  
The evening hours were filled with classic tunes flowing from the speakers to energize the crowd on the dance floor and hilarious snapshots coming from the photo booth.    
Congratulations Amanda and Jared!  
Related:
Ceremony: St. John the Evangelist | Schenectady, NY
Reception/Caterer: River Stone Manor | Scotia, NY
Entertainment: Fernando Bustamante, Conway Entertainment
Videographer: Lance Wheeler
Cake: Villa Italia | Schenectady, NY
Florist: Frank Gallo | Schenectady, NY
Hair & Makeup: Rewind Salon | Schenectady, NY
Limousine: All Occasions Limousine
Photobooth: Matt McClosky Photography
Photography: Matt McClosky Photography